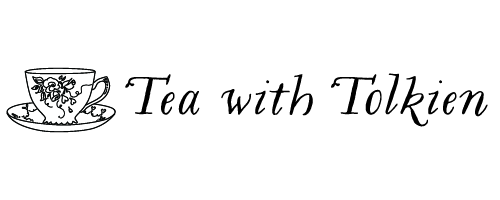 As you probably know, Catholic Mommy Blogs is home to THE Catholic Mom Blog Directory, now featuring over 120 blogs written by Catholic moms! These blogs cover faith, homemaking, parenting, motherhood, arts & crafts, homeschooling and more.
One thing I love to do is uncover new blogs or discover existing blogs that I've never heard of before! I love the perspective from these writers. Their hearts and souls are plastered on these blog pages and there's so much goodness that can help to lift me during the day!
Today, we're interviewing Kaityln Facista from Tea with Tolkein. She's not new to the blogging world, but recently revamped her entire blog and started fresh with a Tolkien-Themed, Catholic blog. I can't wait to tell you more in this interview!
You can check out THE Catholic Mom Blog Directory HERE!
Without further ado, here is Kaitlyn from Tea with Tolkein!
I love the idea of your website and slowing down for a cup of tea with JRR Tolkien! What made you consider moving your website down the road to Tolkien and away from Lily and Mama, your previous blog?
I had actually been writing and sharing Tolkien related articles on the Lily and Mama blog for a few years, but since it was so far out of my niche I really didn't get a response at all. I really struggled with it because, since I found so much of my identity in my motherhood and Lily and Mama, I felt like I could only write about motherhood — and yet I found so much joy in connecting my faith with my love for Tolkien's works! After about a year of trying discern the direction I wanted to go, I finally decided to narrow down and pursue this passion with all of my efforts — and I've been so surprised and humbled by how well its been received!
You definitely have a cool vibe of faith posts mixed in with bookish stuff. But, Tolkien wasn't Catholic…. or was he?
Tolkien actually was a very devout Catholic! His mother converted shortly before her death when Tolkien was a child, and the faith she passed on to her children is woven throughout all of his works. He even described The Lord of the Rings as a "fundamentally religious and Catholic work".
Tell us about your community!
I love our Facebook community and really see it as the heart of Tea with Tolkien. It's meant to be a cozy place to gather and grow as a community inspired by Tolkien's works and his Catholic faith. We mainly use it as a space to gather on Monday mornings for our Book Club discussion – we're currently halfway through The Fellowship of the Ring (the first part of The Lord of the Rings)! I usually share a few discussion points and then it grows throughout the week as everyone joins in with their thoughts. I try to incorporate philosophy & faith into our chats particularly, but we also love to share recipes, memes, and little pieces of our lives with each other.
Check out the Community here!
Which is your favorite of Tolkien's books?
Well, if you count The Lord of the Rings as one book (and Tolkien did), then that would be my answer – but that's too easy! So, I think my favorite is The Silmarillion. It's very dense and can be an intimidating read, but the more I dig into it the more I fall in love with it. It's such a beautiful and intense history of Middle-Earth and provides so much background on The Lord of the Rings.
Not to nerd you out, but I definitely watched some of the LOTR movies at

midnight

when they came out. What do you like more or less about the movies?
This is probably going to be equally nerdy, but here it goes…I liked that Peter Jackson made the films a little more modern in the sense that dialogue is a bit more to-the-point, the pace is much faster, and people weren't bursting into song every couple of minutes (and there were no minstrels). I think all of that made a lot of sense in terms of presenting the story in a way our culture would appreciate. I wasn't a fan of the way he depicted Faramir (one of the biggest deviations from character if you'll ask me), and I was very frustrated that he chose to create a distrust between Frodo and Sam that didn't exist in the book. However, I think he really did a great job overall and the films are probably my three favorite movies. Don't get me started on the Hobbit films, though… 😉
Is there anything "child-appropriate" for young children to read about LOTR that you can recommend?
Yes! There are so many ways for children to experience Middle-Earth in an age appropriate way. I recently fell in love with this sweet children's book called John Ronald's Dragons! It's a short biography of Tolkien's life and an introduction to how he came to meet Bilbo Baggins, and my 18 month old & 4 year old love when I read it to them.
I'd also recommend families starting out by reading The Hobbit, which Tolkien wrote before The Lord of the Rings as a children's adventure story (generally recommended for children 8 and up, but I think that's a choice best left to parents). I own a few copies of The Hobbit, but the edition illustrated by Jemima Catlin is my favorite.
Back in college, I went to a lecture on the symbolism in LOTR and how it relates to Christianity. Are you going to get into that on your blog? (please do!)
I am so inspired by the richness of Catholic faith and philosophy that Tolkien wove into the story of Middle-Earth, and I'm so eager to share about it! While Tolkien denied his works were formal allegory (where something equals another, like in The Chronicles of Narnia where Aslan is an obvious Christ figure), his stories reflect or echo certain elements of his Catholic faith and philosophy. So there isn't one defined "Christ figure" in Middle-Earth, yet we catch glimpses of Christ in Frodo, Gandalf, and Aragorn…
I have dozens of posts in my drafts folder, and dozens more in my head, but trying to keep up with my two little ones, my husband, and my home has meant writing has come slowly. I have shared a handful of my thoughts on the blog so far, but I have big plans for the future and can't wait to share more of them with all of you!
Is there anything else you would like readers to know about you and what you're up to?
I've also opened up a small Tea with Tolkien shop on our site, where I've been learning to screen print on totes and other fabric goods, and I'm also hoping to be launching a few styles of mugs soon! I've been working with Jen Olson of Fiore Design Studio to come up with designs and I can't wait to share them! And I've also got plans to create guided journals, meant to inspire women to connect the storyline of The Lord of the Rings with elements of our faith – and to draw closer to Christ through it. I still run Lily and Mama Market on the side, and am loving being able to stay connected to all of the mamas I've gotten to know over the years of blogging and sewing! So needless to say, I don't sleep much!
One more question… What's your favorite tea and how do you drink it? 🙂
So funny story, I'm more of an iced coffee drinker! I know, I know – but Coffee with Tolkien doesn't quite have the same ring to it, does it? However, when I do drink tea I love Earl Grey with a little cream, but it has to be piping hot. 🙂
I'm an Earl Grey fan too! I really hoped you enjoyed learning about Tolkein, Kaitlyn, and her inspiration behind her blog. Don't forget to visit her at her online home: Tea with Tolkein!
Again, here's the Directory of Catholic Mom Blogs (in case you missed it earlier) where you can discover your new favorite blogger and sign up for emails below so you don't miss a thing from us!