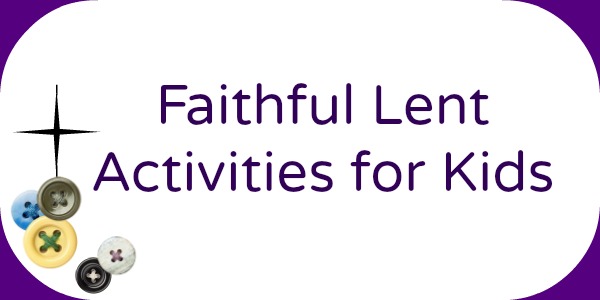 Lent is about a week away and it's time to start thinking about what your going to give up (or start doing) during Lent! Some Catholic families choose to get their kids involved to assist with their spiritual growth. They read books together as a family, do crafts, serve, and do the Stations of the Cross together.
Below are 8 really creative and engaging examples of Lent activities that your kids can be involved with! We hope these help to guide your whole family deeper into the faith this Lenten season! You can follow the links to read more about each Lenten activity. God bless your family this season!
Here are Lent Crafts and Activities for Kids of all Ages!
A prayer chain with prayer intentions to focus prayer time as a family — Rosie Hill at A Blog for my Mom
Make a salt dough crown of thorns and putting toothpicks ("thorns") in the crown.  As my children make big and small sacrifices they pull a toothpick from Jesus' crown.  By the time Lent is over, there *should* be no thorns and then my children paint the crown gold and glue jewels on it at Easter to represent that Jesus, the King of Kings, is risen! — Tracy Bua Smith at A Slice of Smith Life
Make a Crown of Thorns Easter Basket. My kids are still so young (currently 6, 4 and 2), but we are in our third year of doing a Crown of Thorns. Each time you do something kind or make a sacrifice for Christ, you get to pull out a thorn. I use the (empty) crown of thorns as a bunny nest "crown" for Jesus on Easter morning. I do one big Easter basket that we share as a family, instead of individual Easter baskets, although I have some individual little spiritual-themed gifts for the kids. — Erin Franco at Humble Handmaid.
Cover your big family crucifix with a purple cloth during Holy Week, and I 'decorate down' the house during Lent so that we don't have as many decorations on the mantle and kitchen table centerpiece, etc. We listen to the Holy Heroes Stations of the cross CD during Family Prayer. — Erin Franco at Humble Handmaid.
Serve! My kids are teens now and so the cute crafts………the play dough crowns of thorns and  Glow in the Dark Eggs don't necessarily 'apply' anymore….though they still enjoy those activities! One way we 'do' Lent is through parish activities… they are both altar servers and most Fridays they will serve at our parish Stations of the Cross. — Chris at Campfires and Cleats.
Rest! We use Sunday, the day of rest, to rest from our Lenten sacrifices and use that "little Easter" to enjoy those things we have given up the six days prior. — Katie Young at Raising Young Ones.
A couple nights a week during Lent, we will shut off most of our lights and march around the house and pray the Stations of the Cross for our evening prayers. — Katie Young at Raising Young Ones.
Are you looking for a free Lenten Printable Calendar? Here's the one that we're using from Catholic Family Celebrations. Just Click the "Free Printable" box at the top of the page! This page also has great ideas to give "PAUSE" during Lent: Prayer, Alms Giving, Use-full service and acts of charity, Self-sacrifices, and Educating ourselves by studying the scriptures. See examples and activities here. –Tami at Catholic Family Celebrations
Still looking for ideas? Check out
Also, here are Answers to Common Lent Questions like… "When does Lent end?" and "Do we fast on Sundays?"
Does your family participate in a Lenten kid-friendly activity that isn't listed? Tell us about it in the comments below! 🙂