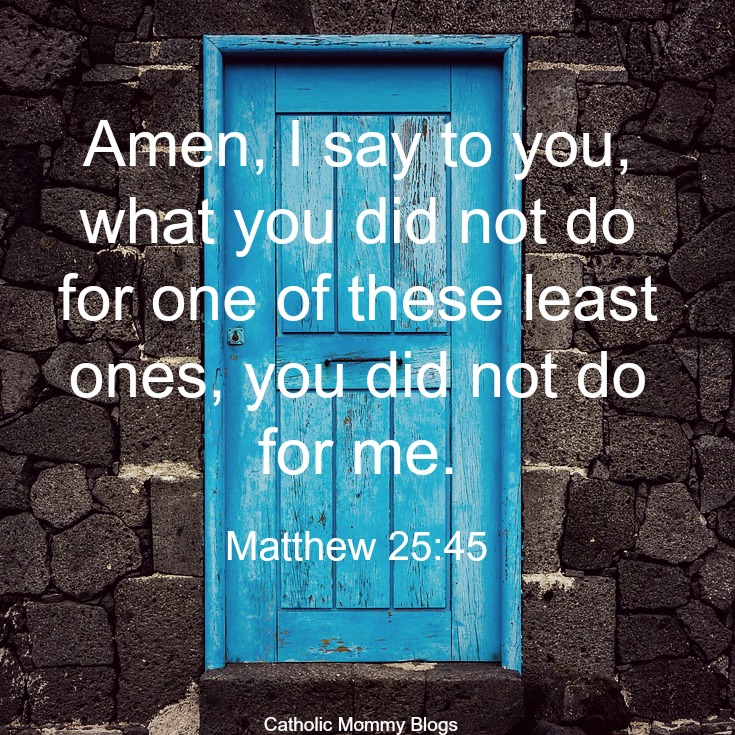 I can completely relate to the fear of offending—I am a certified, first-born, people pleaser—but I'm trying to quit. Because more and more often I am finding that it is within my best relationships, that I risk being my authentic self. I have the best conversations and learn the most when I have to think about something a new way. Similarly, I notice that vibrant Christian communities, who engage the realities outside of their doors, tend to be the most authentic and best-practiced at spreading the Gospel with their lives.
At the end of January, I heard a quip that caught my attention: "If your place of worship doesn't talk about the refugee crisis following the Beatitudes tomorrow, find a new place of worship." I tucked it away in the back of my mind, assuming this message would be a slam dunk if prepared with an ear toward the international unrest at present. After all, over the entry door of our parish it reads, 'No longer strangers and foreigners;' and we have an active justice ministry. I listened, I strained, I dropped one child off at the nursery so that I could hear this message loud and clear—and it never came.
I was disappointed. Yet, is the whole of my faith hanging on this random suggestion that never quite came to fruition? Of course not. Does it speak to a deeper issue about the fear of offending, even among those most prepared Preachinto hear it? I think it does.
Do I like being challenged? No–but isn't that somewhat implied in growth of any kind?
Enter Lent.
The tone of the daily readings has taken a dramatic turn as of late. Warnings, adages, parables, Beatitudes, instructions for the care of the most vulnerable (widow, orphans, and foreigners) have been included in nearly every reading since the New Year—the closer we get to Easter, we begin to see them not just in the Old Testament, or the Gospel reading, but the 2nd reading and the Psalms, too.  Today is no exception:
First Reading: The Ten Commandments
Gospel Reading: The Judgement of the Nations
'Lord, when did we see you hungry and feed you,
or thirsty and give you drink?
When did we see you a stranger and welcome you,
or naked and clothe you? 
When did we see you ill or in prison, and visit you?'
And the king will say to them in reply,
'Amen, I say to you, whatever you did
for one of these least brothers of mine, you did for me.'
This is among St. Matthew's most potent messages. Whether or not it is 'appropriate' to talk politics at church matters little in the wake of these clear-cut instructions for believers as they appear to be intricately intertwined with our judgment and salvation.
What do we make of this—I mean, personally?
Speaking for myself, I can tell you that these readings can make for some pretty uncomfortable listening…not because I disagree with them, but because I feel like my day-to-day has a pretty poor showing when it comes to 'preaching the Gospel with my life.' This, I believe, is good news.
Why?
Because God is not done with me yet, that is what this season is about–rending our hearts–turning from our old, comfortable ways. Jesus is asking me to look from where I am. This is both a confirmation that I am being called to participate (I cannot sit idly by) and a reminder that I have the tools to do what is being asked of me. The difference between seeing and looking is subtle and vitally important. Seeing suggests an ability to perceive; while looking suggests action, effort. We are not just to see Jesus where we expect to find him, but to look for him reflected in the face of women panhandling on the side of the road; to look for him in the throngs of children's faces that are fleeing violence on the evening news; to look for him among all those who are vulnerable so that we might see.
How might our workplaces, communities, schools, parishes, homes, and Facebook feeds change if we looked for Christ in his 'most distressing disguises,' and responded accordingly as St. Matthew suggests?