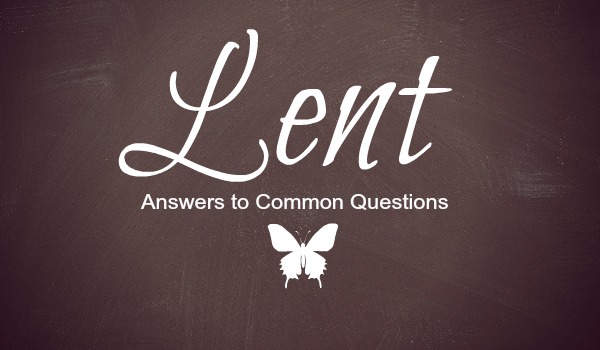 Do you understand fasting during Lent? Are we supposed to fast on Sundays? When do the 40 days of Lent start and stop? At what age do kids start fasting? Why do we fast anyways? (Is your head spinning yet?)
Read on to discover the truths behind why we do what we do during Lent. This post is written by Catholic mom, Colleen Snow, who writes at Future Perfect Life. Read on!
Are You Ready for Lent?
This year, more than most, Lent has snuck up on me like whoa. (Are the Kids These Days still saying that? 'Cause I can't seem to quit.) It seems like the Christmas season just ended, and then BAM, it's about to be Ash Wednesday. Our parish choir is already working on music for the Triduum and beyond.
 Why Do We "Do" Lent? Why Do We Fast During Lent?
So, Lent means fasting. As Catholics, we fast during Lent because it's the most solemn, penitential period of the year. Easter is the High Holy Day of High Holy Days — bigger than Christmas, although the secular world doesn't get that part — because Our Lord and Savior rose from the dead, after offering His life in reparation for our sins. 
I admit it, sometimes I'm a little blasé and even whiny about it — I'm guilty of focusing on the fact of Lent instead of putting enough serious thought into the WHY of Lent. But when I stop to think about it, the WHY of Lent blows my mind every time. Jesus, Son of God, Son of Man, chose to endure horrible suffering and a torturous death that we may have eternal life. We, who cannot!stop!sinning! even in the face of that enormous sacrifice.
I guess that should put the idea of some sort of self-deprivation for 40 days into perspective, huh?
40 days is the traditional Biblical period of spiritual testing, and in particular lines up with the period of time Jesus spent in the desert, being tempted by Satan, prior to embarking on his public life (Matthew 4:1-11). See how good to us God is? He doesn't even ask us to wander in the desert while Satan tries to tempt us to eat rocks.

Fasting means different things to different people, in some legitimate ways. Some people go entirely without food (and sometimes water!), for a day or longer; some people merely cut back; some people give up a specific thing. Luckily, the Church in her infinite wisdom has given us guidelines, with some room for personalization.
How Does Your Family Fast?
Well, first of all, our family almost never blows it out on Mardi Gras ("fat Tuesday," or the full month or so preceding the onset of Lent that the tourism board of New Orleans says is for gorging yourself, general revelry and — ahem — collecting beads). I always forget about Mardi Gras until it's too late. And usually around bedtime that night I realize we missed our opportunity to have our favorite junk one last time. I generally come to the conclusion — once the sudden and vicious doughnut craving has receded somewhat — that it's probably best for us to skip the overindulgence. It just makes the partial fast on Ash Wednesday harder for me.
How Do You Fast?
A partial fast — as opposed to a real "nothing may pass your lips" fast — involves abstaining mindfully from certain things for a proscribed period. On Ash Wednesday and Good Friday specifically, the rule for adults between the ages of 14 and 60 is: one main (meatless) meal and two smaller (also meatless) meals, which if added together would not be more than the main meal. There are exceptions for pregnant women, diabetics, etc. But if you are able to fast and you are not too young or too old, you are required to fast. So our three year old and our one year old will proceed with their lives as usual while their Daddy and I… Let's say "eat light and also vegetarian."
(Here, a reminder to be thankful that it's not 40 days in the desert with Satan nipping at your heels.)
Also good, but not required, on Ash Wednesday is to go to Mass and receive ashes on your forehead as an outward sign of mourning. 
Besides the Ash Wednesday and Good Friday fasts, we're also told to abstain from meat on Fridays. Fish is allowed, as a symbol of Christ. (This stems from the Ichthys, now known as a "Jesus fish," which symbol was used by persecuted early Christians — the more you know!) I'm not generally a big seafood fan, but I do like scallops, so my husband always wants to use the opportunity of a Lenten Friday to talk me into pan-searing some scallops for dinner. Served with salad, the result is not exactly a sacrificial meal, even if it is technically within the guidelines and very light. It's just so delicious I actually feel a little guilty.
The rest of the time, I try to keep it simple. We eat a lot of soup during Lent. We're in the midst of an attempted lifestyle change already so we ought to be able to keep on keepin' on without changing too much of our daily food routine.
Give Up Something for Lent
The last thing is giving something up for Lent. This is totally voluntary but it's good for us, as it helps keep Lent and Jesus' sacrifice fresh in our minds whenever we reach for That Thing We Gave Up and have to stop ourselves. Since this penance is voluntary, we have some latitude: for instance, there's some debate about whether Sunday is a day "off" or not. My answer is, as always and ever: it depends.
Do You Indulge on Sundays What You Gave Up for Lent?
What I give up varies widely from year to year, and that dictates whether I take Sundays off — on "giving up Diet Coke with a special emphasis on not also giving up being a nice person" years, I take Sundays off and just try not to drown myself in it. Last year, and I think this year again, I gave up/plan to give up shopping for non-essentials (ohhhh the pain). That means I can't take Sundays off, because otherwise I could spend all week filling up my online shopping cart and check out on Sundays. This one is a judgment call.
Finally: When Does Lent End?
The liturgical season of Lent begins on Ash Wednesday and ends with the final Mass of Holy Thursday. Good Friday through Easter Sunday are the Triduum, which is its own liturgical season. In terms of your Lenten sacrificing, remember that Good Friday is a day of fasting, so the Lenten penance season extends past the end of the Lenten liturgical season. (But that's okay, because one last time: God isn't making you wander the desert for 40 days while you argue with Satan.) The Lenten penance season ends on Holy Saturday. Growing up, we considered noon the cutoff. Honestly I'm not sure if that's true — and Google has been no help. 
Things you must do during Lent:
Fast on Ash 

Wednesday

 and Good Friday, unless you are exempted by your age or your health.

Abstain from meat and poultry on Fridays during Lent.

Go to confession! The Church suggests that we receive Holy Communion at least weekly and daily if possible, but the minimum (again, we're talking about requirements) is once a year, during the Easter season. If you haven't been in a state of grace to receive, making a good confession is the place to start so you can meet this requirement.
Things you are not required to do, but which are good for you:
Get ashes on your forehead on Ash 

Wednesday

. Bonus points if you go right to Target and shop every aisle with your head held high. 
Make a personal Lenten sacrifice, beginning Ash 

Wednesday

 and ending on Holy 

Saturday

, maybe at 

noon

 if you believe my mom — generally a safe bet — since the Internet is no help. Use your discretion regarding whether to maintain your abstention on Sundays.
Maybe sign up for the daily devotionals from Blessed Is She. You'll get the day's readings, plus a reflection written by a fellow Catholic woman, in your email every morning. It's a great way to start your day in the right mindset.
Have an intentional and blessed Lent, sisters!
Colleen Snow is a cradle Catholic, a wife, a mother to two toddlers and a patent examiner. She's from the suburbs of Philadelphia, earned an engineering degree from the University of Delaware, lives in Northern Virginia and longs to move to Texas. She blogs in a somewhat slapdash fashion about a little bit of everything at Future Perfect Life.
Please show Colleen a little love and visit her blog to learn more about what's going on in her head. 🙂 Below please comment by letting us know how you plan to get the most out of the Lenten season. Loaded question, huh? 😉