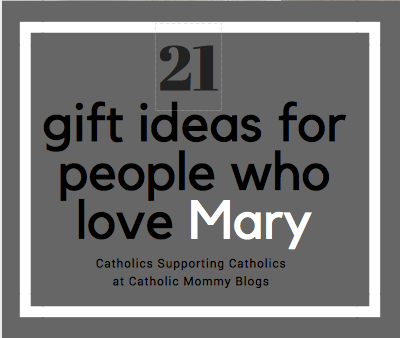 Are you looking for the perfect gift for a Catholic someone on your list? Whether it's a birthday, Christmas, confirmation, or First Communion gift, we've got you covered with this easy guide to excellent gift ideas for people who love Our Blessed Mother. We hope you find exactly what you're looking for in this guide!
Don't forget to save this guide for other gifting occasions!
These products are created by our Catholic brothers and sisters with love and prayers. Thank you for supporting them!
Gift Ideas for Catholics Who Love Our Blessed Mother
A beautiful image of Our Lady of Mount Carmel that shares your love of Our Lady with those around you.
A beautiful printable of Our Blessed Virgin Mary surrounded by colorful flowers- the perfect decoration for your home or a perfect gift for a loved one. Prints out at 8.5 x 11 in. or smaller
Perfect for the outdoor or garden enthusiast, this handcrafted Marian pillar shrine is a perfect way to add prayer to your outdoor space!
A beautiful bracelet to remind us to pray a Hail Mary occasionally throughout the day. A way to add a rose to Our dear Mother's crown.
A beautiful image and reminder to honor the holy family, handcrafted and ready to hang on your wall!
A vintage style bracelet that shares your faith with those around you. Enjoy the image of Our Blessed Mother and the Holy Infant Jesus throughout your day.
These 3"x4" inch magnets are perfect for little hands. Each magnet features a hand drawn illustration of a saint. The holy cards have cute little stories written with little hearts in mind. They are a wonderful way to introduce your child to the lives of the saints.
Impeccably elegant and absolutely beautiful! Very feminine stretch bracelets for little girls using Amerhyst, Citrine, Aventurine and Rose Quartz. All bracelets feature a small ornate Crucifix and Miraculous Medal.
A beautiful vintage style bronze Miraculous Medal necklace. Wire wrapped with warm buttercup yellow swarovski crysrals and a resin rose.
Check out this collection of full, 5-decade rosaries, rosaries for your car (perfect for praying on-the-go!) and rosary bracelets for kids and women!
These earrings are made with vintage elements, new old stock (never been used). There is a green/blue cabochon with a raised Our Lady of peace. Each pair come in its own painted and collaged gift box.
This beautiful paper pieced quilt shows Mary and Jesus, lovingly holding her newborn son. The love between a mother and son is quietly captured in the design, as she gazes down at her sleeping infant.
A beautiful pendant depicting Our Lady of Fatima- a perfect gift for the woman who loves Our Lady!
This *gorgeous* Our Lady of Guadalupe essential oil case is designed to hold eight of your favorite essential oils! Each bag is made with 100% cotton fabric, triple lined for protection, and is machine washable.
Our beautiful Lady is depicted holding the infant Jesus in her arms. The artwork is covered with a high quality 20mm domed glass cabochon that protects and magnifies the image and comes in a gift box, ready for gift-giving!
A sterling Mother Mary charm strung on 18″ of glass seed beads in blue-green seed bead mix. Great for children or mothers alike.
A set of cute saint holy cards with various saints & religious related to the apparitions at Fatima plus a cute OL of Fatima coloring page. 3 page PDF include 1 sheet various images of holy cards 1 sheet back side of cards with the Sacred & Immaculate Hearts & 1 page coloring page of Our Lady of Fatima.

33 Days to Morning Glory
Written by Fr. Michael Gaitley
Fr. Michael Gaitley summarizes the teachings of Mary as taught by St. Louis de Montfort, St. Maximilian Kolbe, Blessed Teresa of Calcutta, and Saint John Paul II. The book is a do-it-yourself retreat that is simple for the busiest of people to use.

Hail Holy Queen
Written by Scott Hahn
Hahn unveils the details surrounding Mary in relations to Revelations and the "new Eve." Using scriptural and historical foundations, Hahn provides a new look at the Marian doctrines: Her Immaculate Conception, Perpetual Virginity, Assumption, and Coronation.

The World's First Love
Written by Archbishop Fulton Sheen
Sheen offers a deeper view into the Blessed Virgin Mary that combines deep spirituality with history, philosophy and theology. Sheen provides insight into Marian beliefs ranging from the Immaculate Conception to the Assumption to the miracle of Our Lady of Fatima. He also discusses Mary's life and the purpose of devotion to her in our modern world.

The Second Greatest Story Ever Told
Written by Fr. Michael Gaitley
Gaitley discusses the connection between Divine Mercy and Marian consecration. He also provides insight for all those who desire to bear witness to the mercy of God, focused on Christ and formed by Our Blessed Mother.
We hope you found some great gift ideas in this post for that special someone in your life. In the end, you can never go wrong with simply telling them you will pray for them: that is a very special gift!