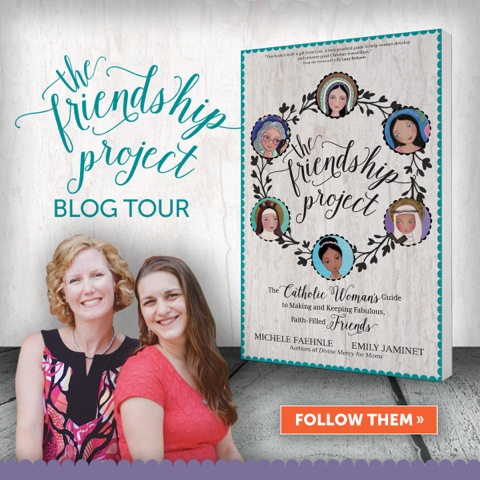 My friends Michele Faehnle and Emily Jaminet are at it again! They wrote an amazing book and toured with it last year… perhaps you've heard of it? It's
Divine Mercy for Moms
and it's so, so good. Especially for busy moms. It gives you a beautiful peek into
St. Faustina's Diary
and the Heart of Divine Mercy.
Now, they're at it again and in a big way with a new book called
The Friendship Project
. Friendship and the idea of friendship changes so much during the course of our lives, especially in this modern era. So before cracking open the pages of this book, I wanted to take a moment to quiz these co-authors and learn a bit about why they wrote this and 
basically
pick their brains.
This post contains affiliate links
(Michele) As we travel around the country speaking about our first book, Divine Mercy for Moms, women often approach us and share that their favorite part of the book is when we talk about our friendship.  Emily and I have been blessed to know each other for over 20 years, since college.  I met my husband at Emily's wedding and we have worked in Women's ministry together over the past 15 years.   Many women shared with us that they too desired to have a close friendship in faith, so we knew that this was a topic women wanted to read more about.   As we researched friendship, we were overjoyed to see the amount of writing that the saints have done on the topic of friendship and its importance and then also the number of saints who had other saint friends while here on earth.
2. What is your friendship like with your co-author?
(Emily) As Michele mentioned above, we met at Franciscan University of Steubenville in the late 90's and have been friends ever since.  Our friendship has grown over the years and we have been in Catholic ministry work for almost 20 years; from Catholic radio, our Columbus Catholic Women's Conference and now our speaking and writing ministry for women.  Michele actually met her husband at my wedding 19 years ago and our favorite memory is when we had babies on the same day, June 8th, which happens to be national best friend day!  Even though we were due 3 hours apart from each other, our sweet little "birthday buddies" were born just an hour apart from each other in the same hospital, by the same doctor!  We have been blessed to grow a deep relationship rooted in our Catholic faith over our adult years.  We have taken Christ's commissioning to heart –
"He summoned the Twelve and began to send them out two by two . . . "—Mark 6:7
 As we write, speak and travel together sharing the gospel, we are also having the time of our lives!
3. I love that you provide a study guide with this book! (Can you provide a link, please?) It definitely fosters a friendship-building feel in a book study environment. Is that the idea?
(Michele) Yes, absolutely!    We really believe small groups are a wonderful way to build faith-filled friendships.  We've worked very hard to provide a group based study based on over 10 years of participating in women's studies together.  The study questions are provided in the back of the book for group discussion, designed to help the participant process and implement many of the concepts presented throughout the book.
Each session also includes a "Going Deeper Into Scripture" section, which allows you to ponder a scripture verse from each chapter and meditate over God's word together. We created a printable version of the study guide in a journal form with lines to write your answers and reflections down, and it is available absolutely free on our website (
https://www.thefriendshipprojectbook.com/group-study/
)  Our website also provides a short professionally produced videos for each chapter, available for free.  Each video includes all-new, complementary teachings not included in the book, a chance to get to know us, the authors, and meet our friends we've written about in the book through unique interviews.   At the end of each session, we invite your group to offer their prayer intentions and pray together the original prayers included at the end of each session.  These prayers are written to help us grow in each virtue and to see these virtues implemented in our friendships.
We know that these groups are so important, that we're offering an entire packet of "bonus materials" such as ice breaker ideas, a meeting planner, recipes for your small group meeting and even an opportunity for a Skype visit with us.   Best yet, our publisher is offering an amazing deal for group orders of 10 or more – 40% off and free shipping!   That means your group can do the study for less than $10.00 per person!
4. If your child read this book, what would you hope they would take away from it?
(Emily) We both hope our children develop wonderful friendships of virtue and faith.   We know as parents, the friends our children make are the most important influences in their lives, so we want them to choose wisely and have wonderful friendships that help them grow as young Catholics.   We would also want them to know all about how important friendship is to both our physical and spiritual lives, what the saints have said about friendship and that there were many saints who were friends with each other here on earth!
5. What is your favorite chapter in the book and why?
(Michele) I would say chapter 5, Growing in Gratitude, was my favorite.  First, because I shared about my amazing friend Brenda, who was such a shining light of gratitude during her son's trials with cancer, but also because I wrote about St. Teresa of Avila and Blessed Anne of St. Bartholomew.   Many people know about the greatness of St. Teresa, a doctor of the church, but even I was not aware of her "inseparable companion", Blessed Anne.   Anne joined St. Teresa's order and was St. Teresa's nurse, secretary and closest friend.   Bl. Anne cared for St. Teresa and was so grateful to be allowed to serve her and be her companion.   Their story ends in a beautiful way, with St. Teresa dying in the arms of Blessed Anne.   I was so inspired by this friendship that not only lasted on earth, but also into eternity as Teresa appeared to Anne after her death.   I believe we all desire to have friendships like this example and hope that all our friends lead us toward God and our life together in eternity.