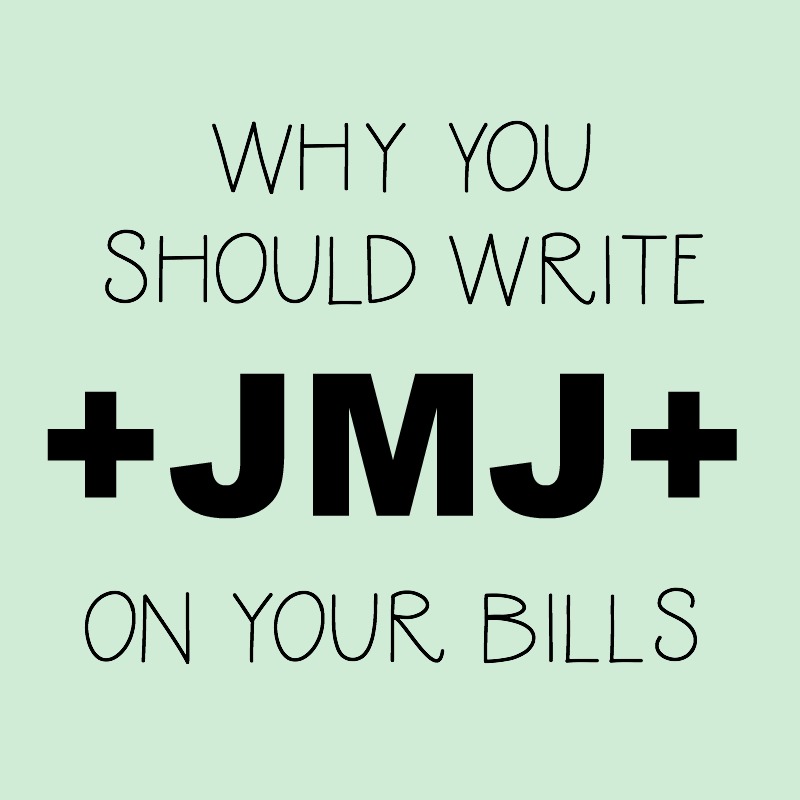 If you've attended Catholic schools or you completed any Catholic homeschooling, you may have seen +JMJ+ or JMJ at the top of worksheets. Perhaps instructors even told you to write it in the margins of papers.
Never seen it before? It's Jesus, Mary, & Joseph: giving honor to Our Holy Family!
There are other acronyms similar to this like AMDG – 'Ad Majorem Dei Gloriam' – 'to the greater glory of God', or AJPM – Ad Jesum per Mariam" – 'to Jesus through Mary'.
It's a short form of prayer that you can use to bless your work. But should you do it?
As a busy student, mother, disciple of Christ, or whatever your vocation may be… I would like to answer this question with a resounding YES! One of the biggest concerns in our Online Mom's Group is making time for prayer. It's so, so hard. We're supposed to infuse prayer within our everyday life and writing JMJ on our homework, paper work, bills, letters, and blog posts (!) can definitely help. It's a short, small cry to the Holy Family. A devotion of love and respect; giving them a moment of your day.
It can also be a cause to evangelization. Students can write it on their homework or research papers and hopefully it will lead to a conversation with someone who saw them writing it once.
Mothers can write it on their daily planners or on their bills. What a great way to show that we are being good stewards of our time and money by offering it up to JMJ!
Consider consecrating your work to God today and creating your work as a small offering to Christ.
+JMJ+